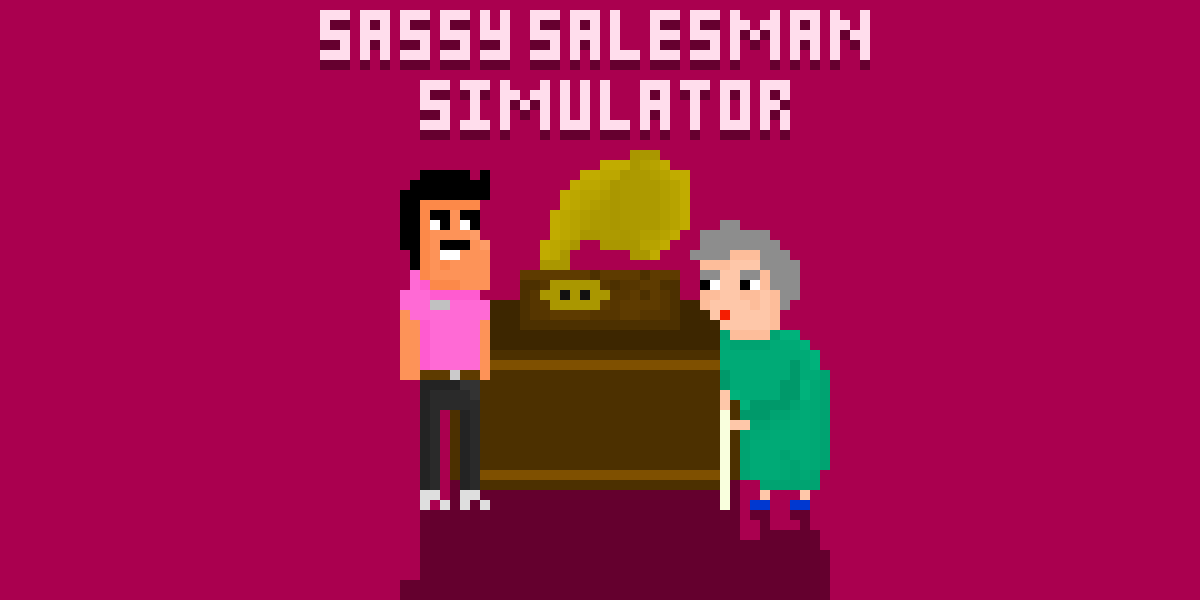 Sassy Salesman Simulator
A downloadable game for Windows
Sassy Salesman Simulator
Welcome to Ancient Tech! The hottest second hand store in town!
Our sassy salesman has been struggling to sell our useless tat. Perhaps you can help guide him to be a better salesman.
Click a Product to lead the client to it, then click the client to initiate your sales pitch. Choose dialogue options to make a sale.
Seal the deal early to increase score. Don't be too sassy or you'll kill the deal.
The game finishes once all four customers have finished shopping. Good luck, and remember to SELL SELL SELL!!!
Made for Ludum Dare in 72 hours
We are currently overhauling it for release in an upcoming project. Read more about it on our blog.
Tools Used
Unity
Sprite Something
FlStudio
Unity Adventure Framework
Download
Click download now to get access to the following files:
Comments
Log in with itch.io to leave a comment.
The code is askrodoforthecode
Had a good laugh, enjoyed the concept. I liked having a relatively decent idea who would go for what item by their appearance, but it still felt a little random. Shame I couldn't sell the arcade machine. :P Felt very much like playing the ever-so-greasy Stan from the Monkey Island™ series!
Great work! :)
Hello! Thank you for playing our game and leaving feedback, much appreciated.
This game is still in it's unfinished Ludum Dare state. We are currently remaking it along with some other games on our page for an all in one pack. The arcade machine and other things will be able to be sold and the clues and logic will be a little bit clearer in general. You're right, some of it is a bit random haha.
Hope we can get you to try the new version when it's done!
Did a Let's Play of your two games: "Oh, You Monster and Sassy Salesman Simulator. They were great. Keep it up.